Who made Your Blanket?
Welcome to The Sleep Chapter, where we take pride in every handcrafted piece we create. Our Knitted Weighted Blankets are no exception, each one meticulously crafted by skilled artisans who pour their heart and soul into their work. What sets us apart is our unique 4-digit code system, which allows you to trace the journey of your blanket from inception to completion. By connecting you with the artisan who brought your blanket to life, we're proud to give you an unparalleled insight into the passion and skill that underpins everything we do. Join us on a journey of discovery, and experience the true value of handcrafted artistry with The Sleep Chapter.

To meet the artisan who Knitted your Blanket, please enter your unique 4-digit code below:
Have a Code? Enter it here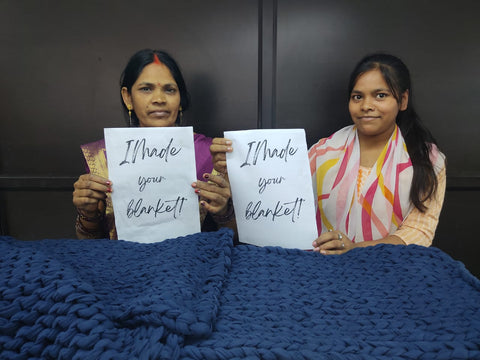 Kanti and Payal
Kanti and her daughter Payal come from the quaint village of Chhapra in Bihar. They have mastered the art of hand knitting weighted blankets, creating exquisite pieces that showcase their skills and creativity. Kanti's husband is a painter, and apart from Payal, she also looks after her two younger children. The family relies on the income from Kanti and Payal's knitting to sustain themselves, especially during the off-seasons when her husband's work is scarce. Despite the challenges, Kanti and Payal take pride in their work and cherish the opportunity to contribute to their family's financial stability.
Pinky Devi
Pinky Devi, a resident of a small village in Siwan, Bihar, is a shining example of women's empowerment. Despite being a mother of three and taking care of her household, Pinky decided to turn her passion for knitting into a livelihood. She started creating beautifully hand-knitted weighted blankets. Pinky's husband works in a computer repair shop, but with her earnings, Pinky has been able to supplement the family's income and provide a better quality of life for her loved ones. By taking control of her financial situation, Pinky has not only become self-sufficient but has also broken down traditional gender roles in her community. Her dedication and hard work have set an example for other women in her village, inspiring them to take up livelihoods and become financially independent.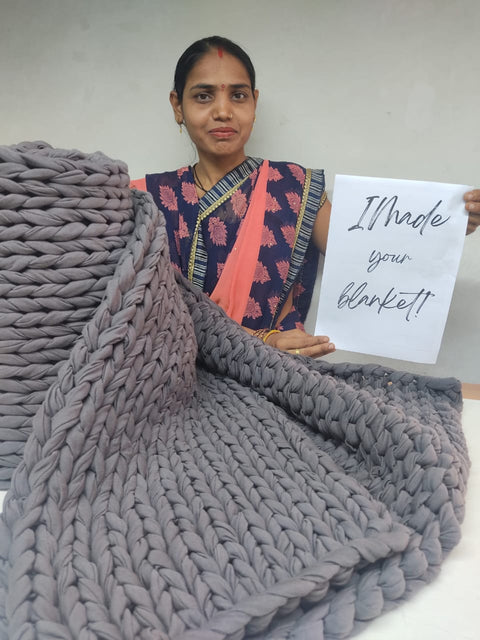 Poonam Soni
Poonam Son, a resident of Ballia Town in Bihar District, has found a way to contribute to her family's income by beautifully hand knitting weighted blankets for The Sleep Chapter. Despite having two children who are currently studying, Poonam has managed to find time to perfect her knitting skills and create high-quality products. Her husband works as an electrician with a firm, and Poonam's handiwork provides additional support to their household income. Through her work with The Sleep Chapter, Poonam has found a sense of fulfillment and empowerment, as she is able to contribute to her family's financial stability while pursuing her passion for knitting.
Nutan Jha
Nutan Jha, a resident of Bhagalpur village in Bihar, comes from a family of knitters and has been knitting since her childhood. She beautifully hand knits weighted blankets for The Sleep Chapter, providing warmth and comfort to many. Her husband works as a line in charge in an export firm, and she has two working children. When asked about her knitting, Nutan says that it not only helps her contribute to the family income but also gives her a sense of purpose and fulfillment. Nutan's skill and dedication showcase the power of traditional crafts in creating economic opportunities and empowering women in rural communities.
Title
Block Data to be entered here