The Science: Deep Touch Pressure
In a nutshell, Weighted blankets work by combining the magic of a warm hug and the
science of deep pressure stimulation. Our blankets evenly distribute weight
around your body and model the feeling of being held or swaddled. This, in turn, releases stress relieving hormones and lulls the body into a deep calming
state, ensuring that you sleep better and wake up feeling refreshed.
Weighted blankets can also benefit anyone looking to upgrade the quality of their sleep,
including: teenagers, senior citizens, and kids too.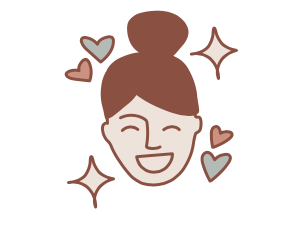 A chemical that regulates mood, happiness and overall sense of well-being. This allows your mind to relax into a more restful, restorative sleep.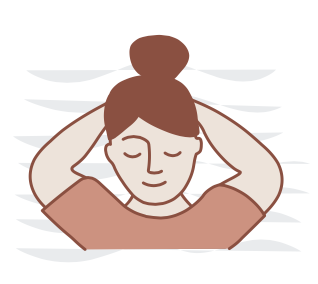 The hormone that causes stress. It works with certain parts of your brain to control your mood, motivation, and fear.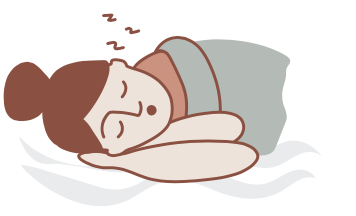 The hormone that helps you sleep and relax. Melatonin creates deeper REM cycles, leading to a more restful sleep.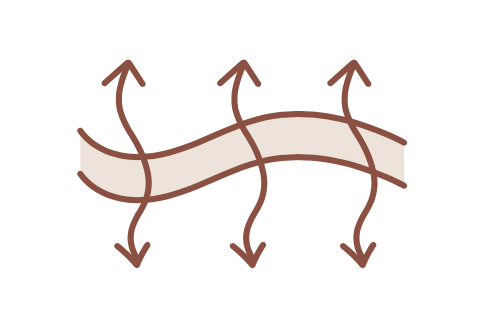 Glass beads are placed at calculated intervals for even pressure.
Single: 50"x75" (5,7,9 Kgs). Double: 90"x90" (14 Kgs).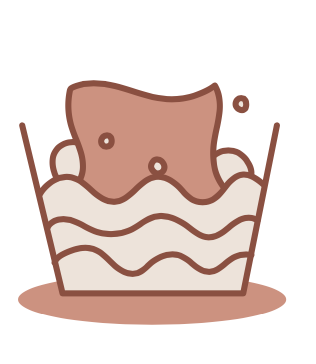 We recommend hand-washing and air drying or dry-cleaning our blankets to keep them in their best condition.
Weighted Blankets For Adults
You can rekindle the magic of restorative sleep, today.
We spend almost a third of our lives sleeping. Making it undoubtedly one of the most essential functions to help our bodies heal, rest and thrive. Day-to-day stress can take an immense toll on your body and dramatically disrupt your
sleep.
But that's where we come in. Our Blankets are designed to help you sleep better and feel calmer, naturally.
The science is simple. Sleeping under an evenly distributed weight triggers a natural chemical reaction in your body. This boosts Serotonin (your happy hormone), decreases Cortisol (your stress hormone), and increases Melatonin, which all leads to you falling asleep faster
and better.
Cotton Weighted Blankets
Our Premium 100% Cotton printed reversible blankets are crafted to provide the sensation and comfort of a warm hug to help you sleep better, dream bigger, and wake up feeling brandnew.
Bamboo Weighted Blankets
Our ultra-high grade bamboo fibre blankets come with countless benefits.From anti-bacterial properties to its unmatched thermo-regulating effects, you can ensure that your skin remains insulated during the cold of winter, and refreshingly cool during the peak of Summer. Aside from being incredibly light, soft and extremely breathable, it'salso nonirritating and non-allergenic - making it perfect for anyone with sensitive skin.
Velvet Weighted Blankets
Remember, therapeutic doesn't have to mean basic. Velvety, like its namesake, our select line of weighted blankets are the epitome of comfort and luxury. The extra smooth nap leaves a lush, gentle touch on your skin, encouraging you tonever want to  let go. All while being a chic accompaniment to any contemporary space.
Weighted Blankets For Kids
Watch your little one's sleep through the night. We understand the unconditional love that tethers a parent to their child, and the pain they go through when seeing them in distress.
That's why our kids blankets are lovingly designed to help your little ones sleep peacefully through the night.
Turning them into happy,sound sleepers that start to play more, learn more, and always make the mostout of their day.
We've engineered our kids blankets with their particular needs in mind,using the highest quality organic cotton that is both breathable and gentle tothe touch.
Kids Printed Cotton Weighted Blanket
Made from 100% Organic Cotton. The weight of this blanket is designed to provide the sensation and comfort of a warm hug to help your little ones fall asleep faster and stay asleep longer. This occurs when your body releases serotonin and melatonin while in the comfortable cocoon of our weighted blanket. The weight naturally stimulates your body's biochemistry to induce a calming effect.
How does it work?
Babies tend to respond better when they are hugged, swaddled, cuddled, and rocked. If you think that getting a hug is for children only, you may be surprised that the feeling does not go away even as you age.
Weighted Blankets helps

- Provide comfort and security
- Ease stress and soothe anxiety
- Improve sleep quality
- Calm the nervous system
- Aid with sleep disorders and insomnia
- Relieve ADHD and sensory disorders
- Restless leg syndrome
Safety
Weighted blankets are generally safe, as long as the user has adequate strength to take
the blanket off themselves in the event of suffocation. The recommended weight of a weighted blanket is up to 10% of one's body weight.
Though weighted blankets have scientifically been proven to provide great relief for some sleep
disorders, we do not recommend our blankets to customers who suffer from Sleep apnea until they have consulted with a medical professional.
Moreover, It is advised that those with specific medical disorders, such as chronic respiratory or
circulatory difficulties, asthma, low blood pressure, type 2 diabetes, and
claustrophobia, also consult their doctor before using a weighted blanket.